KIDS SKI & SNOWBOARD SCHOOL IN GUDAURI
Ski or Snowboard lessons are the best way for your kids to make the most of their time in the mountains, and for parents it is a perfect opportunity to relax knowing that your child is learning new skills and building confidence in a safe and fun environment.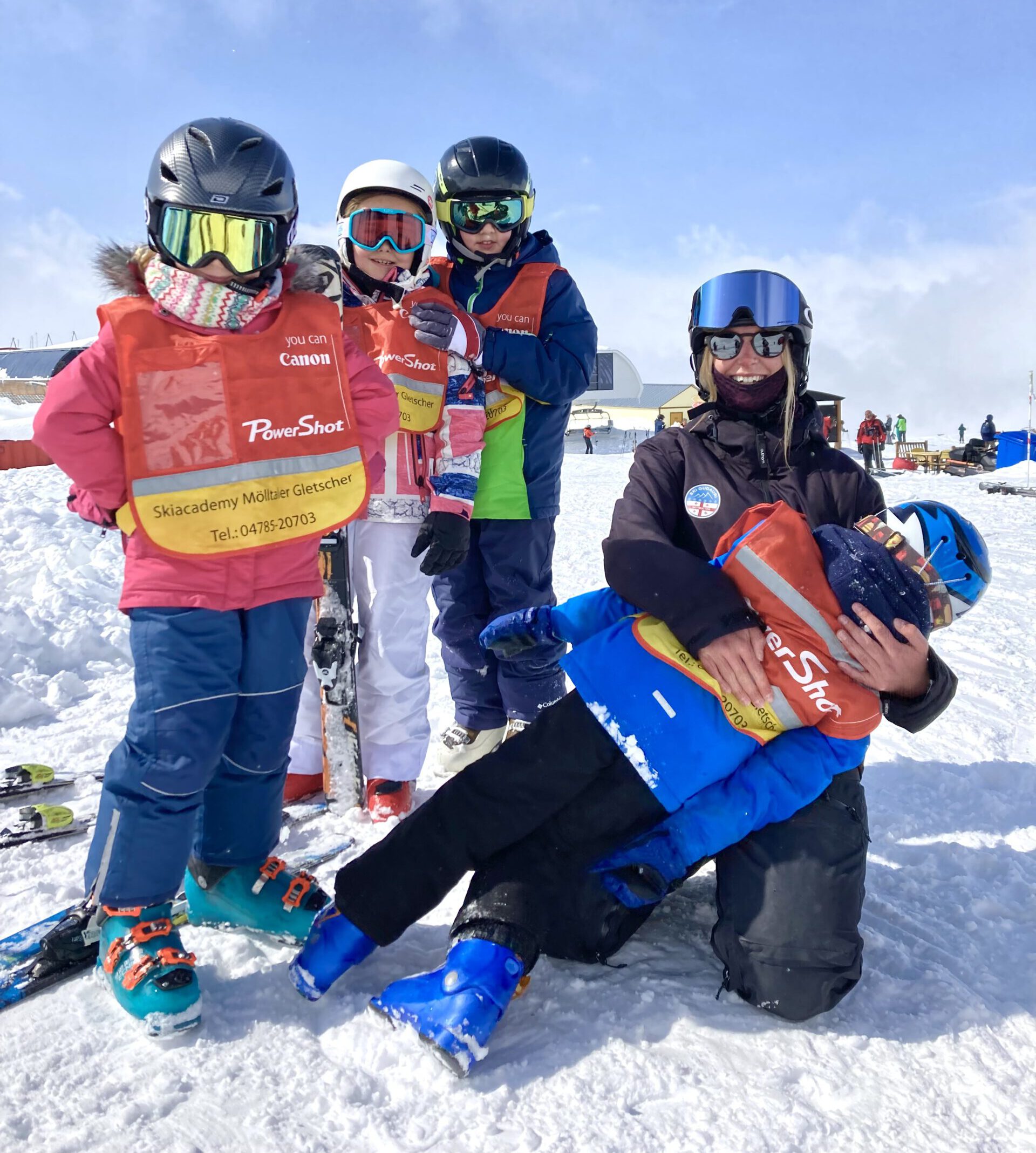 WE ARE RESPONSIBLE FOR THE
SAFETY OF YOUR CHILDREN
All our groups have experienced and friendly instructors, trained specially to work with children
Our school has special bibs for children so that they can be identified on the slope at all times
Your child's safety is our instructors' top priority - every decision is made to mitigate risk and ensure safety
All kids wear helmets during lessons
Small groups – no more than 6 kids per instructor.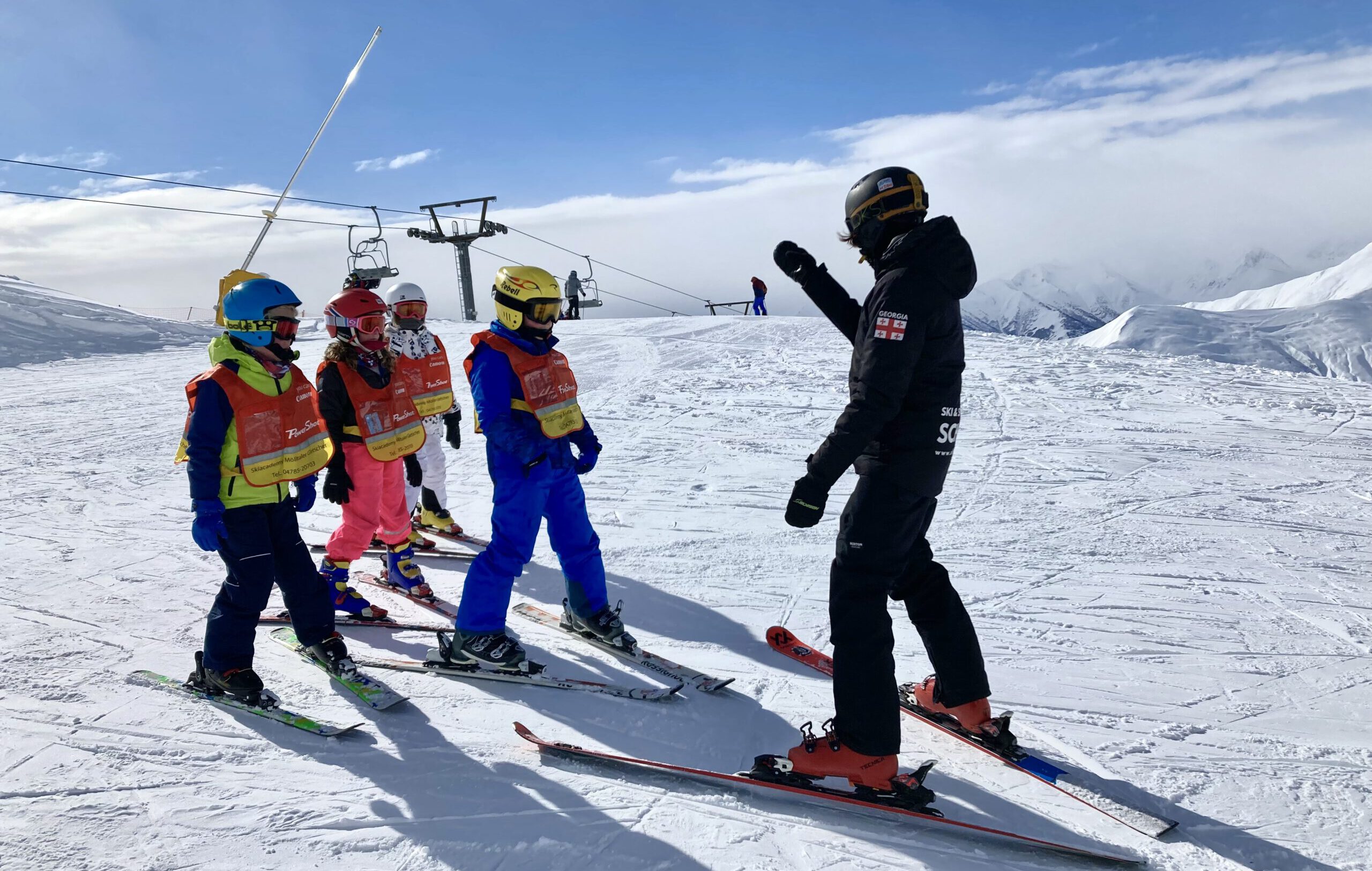 Info, Prices and Booking
Morning Ski 3 Hours

These 3 hour group lessons run from 10am to 1pm for children over 5 years old; a choice of 3, 4, 5, or 6 sessions is available. Students are grouped according to their ability level in groups of 6 or fewer to ensure the best learning environment. Our group lessons are specially designed around the needs and learning styles of kids – our fun, patient, and passionate kids instructors will help your child achieve their best skiing and biggest smile.

For children aged 3 and 4 we offer private ski lessons to make sure they get the individual attention younger learners need.

10am - 1pm

Book now
Subscribe to our newsletter
New Gudauri, Building number 3
CHILDREN SKI & SNOWBOARD SCHOOL FAQ's
The minimum age for morning group ski lessons is 5, and the minimum age for all day group ski lessons is 8. Skiing is great fun, but can be physically and mentally challenging so for children under 5 we offer

private ski lessons

so that we can give them the extra care and attention they need while learning. The minimum age for snowboard group lessons is 7. Snowboarding requires a lot of fine motor control and a low centre of mass which children develop at around 7 years of age. We offer

private snowboard lessons

to 5 and 6 year olds to give them the extra patience and attention they need while learning. Skiing is typically easier for smaller children to get started, so if you are hesitant, we recommend booking a ski lesson or talking to our friendly booking team.

To ensure the highest standard of instruction and safety: all our group lessons have a maximum of 6 students.

Lessons with only 1 participant will run for a reduced time of 1.5 hours (for 3 hour lessons) and for 3 hours without lunch (for full day lessons). Groups with 2 or more participants will run for the full duration.

Check in for all classes will be at the meeting point at 9:40am. Morning classes depart the meeting area at 10:00am and groups will ski or snowboard for 3 hours with a short break if suitable - snowsports are tiring so we recommend giving your child a snack to keep their energy levels high! Pick up is at the meeting point at 1:00pm. Full day ski camps depart the meeting area at 10:00am and groups will ski all day, with a lunch break and the option of short morning and afternoon refreshment breaks to keep kids energised and hydrated. We recommend giving your child some snacks to keep their energy levels high! Pick up is at the meeting point at 4:00pm. Each day will be a new and exciting challenge as your children improve and gain confidence. Our patient and encouraging instructors will use different exercises and games as your children progress and explore more advanced terrain. No two lessons are the same - our specially trained kids instructors will adapt their lessons to make sure your children are safe, having fun, and improving in a friendly, patient environment, no matter their ability or confidence level.

Please check our

Level Finder

to assess the level of your children. We understand that assessing your children's ability is difficult for non-professionals, however we ask that you try not to overestimate your children's ability as being "moved down" levels can hurt your child's confidence.

Children are placed into groups of 6 or fewer based on their ability level from first-timer to advanced. We also take into account the age and developmental stage of your kids to create a fun group dynamic for everyone. To ensure children are assigned to the most suitable group our friendly and knowledgeable instructors will chat to you and your child at check in, and assess their ability at the beginning of the lesson. Everyone learns at different speeds, so although we try to keep the same groups for the whole week we will occasionally change groups to make sure your child is at the right level to improve best.

Groups are split according to ability level, so if the children are the same level then we will do our best to put them in the same group. If the children have different ability levels then they will be put into different groups - this will ensure they get the most improvement possible from their classes and give them the opportunity to make new friends.

Yes, children age 7 and above require lift tickets. Lift tickets are not included in the lesson price, please buy them in advance as your child cannot start the lesson without one.

Ski Gudauri have four

rental shops

conveniently located around Gudauri to cover all your equipment needs. Our rental shops specialize in fitting your children with the equipment appropriate for their age and ability level. You can rent equipment with a

great discount

when booking lessons. Equipment fitting can take up to an hour, we strongly recommend collecting your equipment the evening before your first day of skiing.

Your child's safety is our top priority. Our instructors are specially trained to keep your kids as safe as possible while they learn. All kids wear helmets during lessons, and kids in group lessons wear special Ski Gudauri bibs so that they can be identified all over the mountain. Our instructors teach your children how to ride and behave safely on the slope, and choose exercises and terrain that will challenge, but not exceed your child's ability.

Weather conditions are very variable in the mountains - temperatures at the top of the mountain in mid-winter can be below -20C, and the beginner area in spring can reach +20C so we recommend you check the weather forecast every morning and dress for the conditions. Whatever the weather, your child will need a waterproof jacket, waterproof pants, waterproof gloves (or mittens for younger kids), goggles or sunglasses, sunscreen and lip protection. A single pair of knee high socks provides the best comfort and control in ski boots. Helmets are REQUIRED for all children age 17 and under who participate in Ski & Snowboard School lessons.

Our goal at Ski Gudauri is not simply to keep your child safe and improve their skiing, we want to give them memories that will last a life-time! To recognise their achievements and progress every participant will receive a certificate and a badge on their final day of lessons.

We do not issue refunds due to weather, if children are unwilling to participate, or if they feel unwell during the lesson. Please check Ski Gudauri's

Terms and Conditions

for more information.